All of these ASCs are reaching peak productivity with Apex.
Why Not You?
Gulfshore Endoscopy Center
Jacksonville Beach Surgery Center
Mountain Vista Surgery Center
Cape and Islands Endoscopy
Gulf Coast Surgical Center
Tampa Outpatient Surgical Facility
Sun City West Surgery Center
Evergreen Endoscopy Center
Triangle Gastroenterology
ASCs: Meet Apex, Your New Procedure Documentation Software
Provation® Apex delivers critical insights to help your ambulatory surgery center (ASC) manage financial and clinical outcomes through the guided capture of relevant procedure data. Flexible, intuitive, and specialty-specific, Apex can learn each user's workflow and favorites for unrivaled physician personalization, adoption and satisfaction.

Hover over the icons below to learn more about each exciting feature.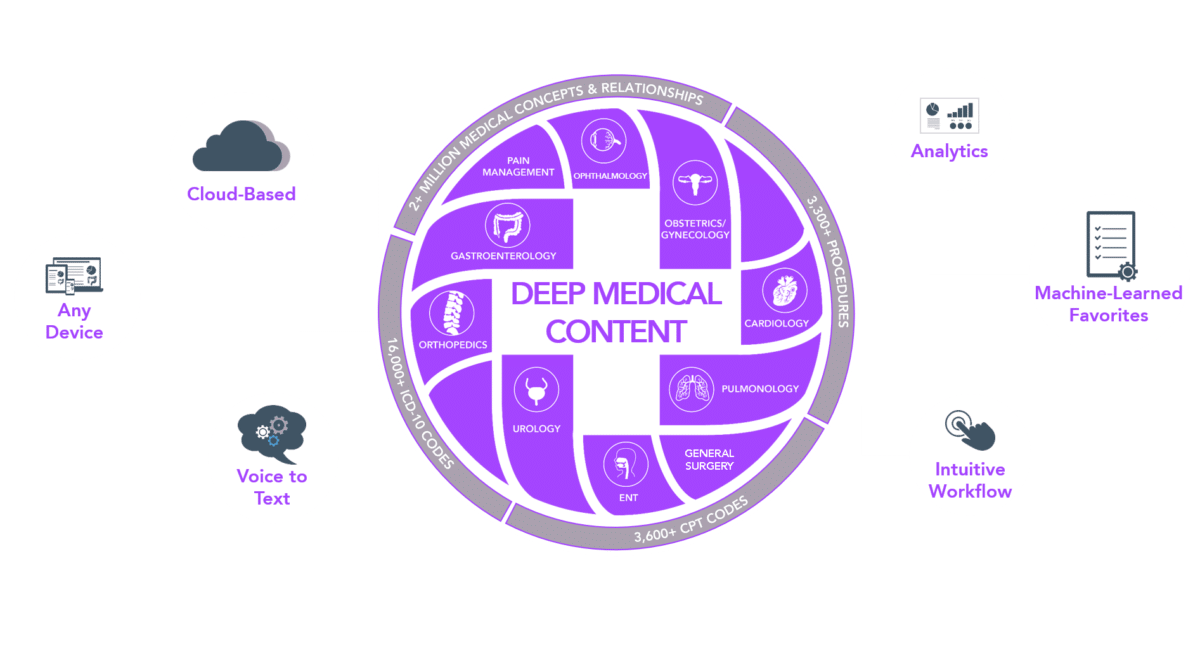 Smaller IT footprint 

No servers to buy or maintain

No updates to run  

No downtime for backups 
Available on any device with internet access 

Consistently and accurately document procedure notes and access them anywhere, anytime 

Mobile workflows  
Once available, Apex will automatically convert the physician's speech into structure text via natural language processing (NLP)

Great for physicians who prefer to dictate notes 
Once available, Apex will provide clinical intelligence, guidance and custom data reports  

Gain insights into quality, ROI and benchmarking across all your providers using the software 

Improve efficiency of operations, as well as clinical and financial outcomes. 
Once available, Apex will learn each physician's workflow and favorites

Experience unparalleled physician personalization, adoption and satisfaction 
Guided navigation of specialty-specific medical content in a modern UI 

Fits the physician's natural documentation workflow 

Allows for complete procedure notes with immediate access to structured data that can be easily analyzed, queried and shared 
What Our Customers Say About Apex
Nathaniel (Teddy) Winstead, MD
Owner at Houma Digestive Health Specialists, Gastroenterologist
"My favorite Apex feature, so far, is 'Machine-Learned Favorites. Once you get your Favorites set, it's a breeze!"
Gastroenterologist at Jacksonville Beach Surgery Center
"It's very obvious that physicians helped design this software, because it's intuitive and easy to use from our perspective. I can't say that about any of our other software."
Owner at Peter H. Rubin, MD, PC ASC
"I'm confident that Provation Apex will be the future of procedure documentation and I'm happy to be influential in the continued evolution of the product."
Founder of Springfield Gastroenterology and Gastro Care
"I trust Provation because it is the only software that actually saves us time and improves quality. Provation definitely helps our clinical workflow, and the new Provation Apex platform is even more intuitive and streamlined than what we are used to."
Want to See Provation Apex in Action?
Check out our free, on-demand webinars!
Which Provation solution is best for you?
Explore the differences between Provation MD and Apex to see which solution is best for your ASC.
On-Premise Procedure Documentation
For 25 years, our flagship procedure documentation software, Provation MD, has been trusted by leading physicians worldwide.