ASCs: Meet Apex, Your New Procedure Documentation Software
Provation® Apex delivers critical insights to help your ambulatory surgery center (ASC) manage financial and clinical outcomes through the guided capture of relevant procedure data. Flexible, intuitive, and specialty-specific, Apex can learn each user's workflow and favorites for unrivaled physician personalization, adoption and satisfaction.

Hover over the icons below to learn more about each exciting feature.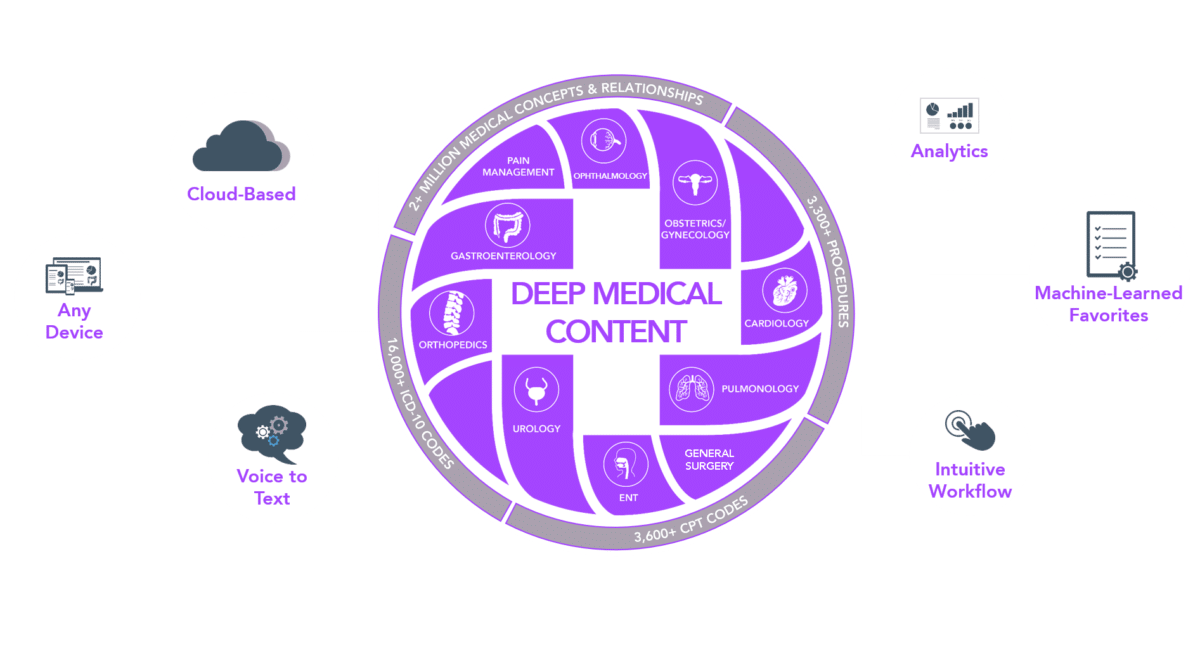 Smaller IT footprint 

No servers to buy or maintain

No updates to run  

No downtime for backups 
Available on any device with internet access 

Consistently and accurately document procedure notes and access them anywhere, anytime 

Mobile workflows  
Once available, Apex will automatically convert the physician's speech into structure text via natural language processing (NLP)

Great for physicians who prefer to dictate notes 
Once available, Apex will provide clinical intelligence, guidance and custom data reports  

Gain insights into quality, ROI and benchmarking across all your providers using the software 

Improve efficiency of operations, as well as clinical and financial outcomes. 
Once available, Apex will learn each physician's workflow and favorites

Experience unparalleled physician personalization, adoption and satisfaction 
Guided navigation of specialty-specific medical content in a modern UI 

Fits the physician's natural documentation workflow 

Allows for complete procedure notes with immediate access to structured data that can be easily analyzed, queried and shared 
New to Provation?
Our webinar Revolutionizing GI Procedure Documentation is right for you. 
This webinar was designed to provide GI ASC and hospital thought leaders with the latest ideas and insights on how a cloud-based procedure documentation solution can impact clinical productivity, patient throughput, reporting and physician satisfaction.
Webinars Available On-Demand:
See Provation® Apex in Action
Already a Provation Customer?
Our webinar Why Migrate to Apex and the Cloud? is right for you.
This webinar was designed to show Provation ASC and hospital customers how migrating to Apex can simplify back-end management, enable mobile access and keep software up-to-date. Plus, it shows our revolutionary UI and some of our most popular productivity-boosting features.
Is Provation Apex Right for Your ASC?
Trust the brand that used in over 1,000 ASCs. Want to learn if Apex is the right procedure documentation platform for your ASC? Contact us today and an expert will be in touch. 
Become an Early Adopter
From early access to the latest technology to a smaller IT footprint, explore all the reasons to become an Apex Early Adopter.
Are You a Provation® MD Customer?
Explore the differences between Provation MD and Apex and the reasons your ASC should consider migrating.
On-Premise Procedure Documentation
For 25 years, our flagship procedure documentation software, Provation MD, has been trusted by leading physicians worldwide.