WHY NURSES LOVE PERIOPERATIVE SOFTWARE
What is Perioperative Software?
Perioperative software is designed to optimize clinical workflows during the time frame surrounding a clinical procedure or surgical operation.
There are many different clinical settings and medical professionals that can benefit from perioperative software, including anesthesia, PACU, nursing, PAT, perfusion, and more.
A Comprehensive Suite of Perioperative Software with AIMS at its Core
Consistently named a Black Book Leader and #1 Best in KLAS, Provation® iPro is a mobile, cloud-based anesthesia documentation and perioperative data management software suite.
Designed to support the entire perioperative workflow–from pre-op through post-op, iPro streamlines the capture, flow, and management of patient data throughout the perioperative encounter to improve documentation, OR efficiency, patient safety, and medication management.
PRE-OP: Preoperative Anesthesia Testing (PAT) Software
Provation® SurgicalValet™
Simplify your preoperative workflows with Provation® SurgicalValet™ Care Coordination software. We make it easy to coordinate care for each patient, automatically, based on H&P and EHR data. In doing so, you can decrease case cancellations and delays, shorten time spent on PAT screening, and eliminate unnecessary preoperative testing.
Provation® iPro PAT
Prior to anesthesia, specific preoperative patient evaluations are required. Streamline your H&P processes and equip your PAT and anesthesia teams with a smart solution that integrates with major EMRs, including MEDITECH and Altera Digital Health (formerly Allscripts). Provation iPro PAT also integrates with iPro AIMS for seamless anesthesia documentation and coordination. 
INTRA-OP: Perioperative Nursing Software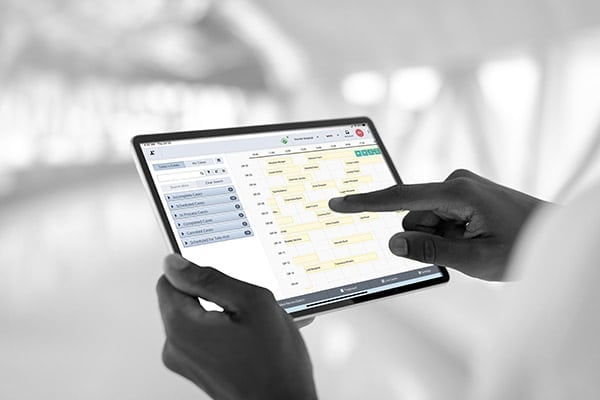 Provation® iPro Perfusion
Perfusionists can shift their focus from the paper by offering automated data collection with our advanced intraoperative software designed to improve the quality of care and patient safety. This mobile solution helps fill yet another critical gap in electronic perioperative documentation by automating the process during surgery and perfusion interaction, minimizing errors and redundant communication.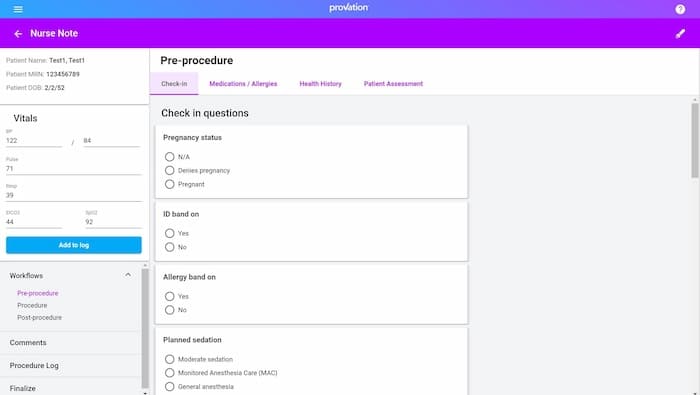 Provation® Apex Patient Charting
If your perioperative care team is completing gastroenterology, pulmonary, or pain management patient documentation using paper forms or stagnant electronic templates, your site is at risk of errors, miscommunication, and redundant documentation. Plus, you're missing out on all the advantages of having smart software like cloud-based Provation® Apex Patient Charting, which integrates with major EHRs and Provation® Apex Procedure Documentation software.
POST-OP: Postoperative Anesthesia Testing Software
Patient Experience Survey
Some of the most powerful information your facility can gain is from the voice of the patients you serve. Are you capturing it?
With Provation Patient Experience Surveys, you can! This series of six questions are quick and convenient for your patients to answer, while also empowering your facility with the data to support quality improvement initiatives, benchmark against national NACOR data, monitor provider care, and more!
Perioperative Software for PACU Clinical Documentation
Provation® iPro PACU
Our perioperative clinical documentation software, Provation® iPro PACU, provides a streamlined structure to deliver standard forms and controls for required elements captured during a surgical or procedural encounter. Even better, perioperative nurses will be able to record data as it occurs in real-time throughout the perioperative care continuum.