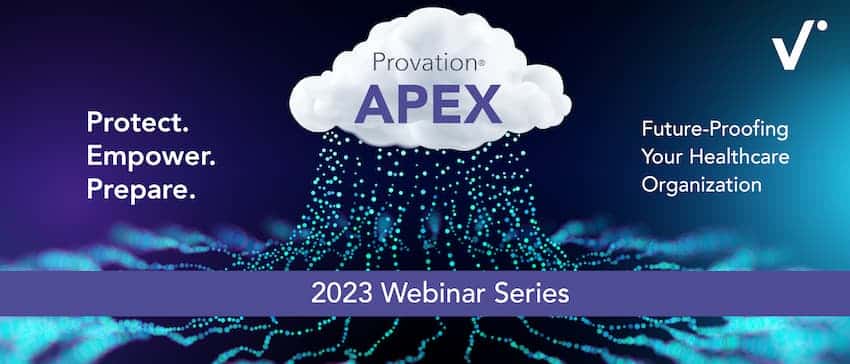 Protect Your Data with Layers of Provation Apex Cloud Security
For hospitals and ASCs, data security is your top priority. Data breaches are occurring across the United States, and it's critical your organization remains not only vigilant, but protected. So, do you know what healthcare organizations should be looking for when choosing a procedure documentation solution?
Provation's Chief Information Security Officer, Curt Rebelein, presents how healthcare organizations are evolving to bring data security at the forefront. He discusses:
The current landscape in the healthcare software space

How on-premises and cloud security compare

What certifications healthcare software companies are required to achieve, and how some companies are going above and beyond

The layers of security hospitals and ASCs can expect from cloud-based Provation Apex

And more!
Empower Your Team with Provation Apex Data-Driven Decision Making
Can your hospital or ASC team easily create accurate reports that help you continuously improve quality and maximize compliance?
If you are tired of trying to analyze and communicate clinical data using old spreadsheets, join us in this on-demand webinar! Mathew Dawson, Manager of Customer Success, will show you how clinicians using Provation Apex Reporting (powered by Microsoft® Power BI™) can:
Build out custom dashboards to drill down on data relevant to your facility

Improve procedure quality by analyzing reports on personnel utilization, scope times, prep quality, medication dosage, maneuvers, and more

Identify gaps and increase clinical efficiency by reporting on facility-specific data

Create personalized reports to report on custom content or procedures most relevant to specific facilities or roles

And so much more!
Prepare for the Future with Provation Apex GI Innovation
For over 25 years, Provation has been the Gold Standard in gastroenterology (GI) documentation. But we're not slowing down.
Watch the final webinar in the Protect. Empower. Prepare. series to learn how Provation Apex's artificial intelligence (AI) can unlock features and functionality our valued customers have been inquiring about for years, including:
Machine-learning, to increase efficiency and accuracy during documentation

Predictive entries, to learn clinician's most-used selections to improve patient throughput

AI-assisted polyp detection, designed to aid physicians in the real-time detection of polyps and other lesions

Auto-documentation, to bring clinical productivity to a whole new level
Did you hear? Provation is partnering with Iterative Health to soon bring you SKOUT™ AI-Assisted Polyp Detection! Designed to aid physicians in the real-time detection of adenomas, SKOUT demonstrated a 27% relative increase in adenomas per colonoscopy (APC) in a recent clinical study.