Perioperative Care Coordination Made Easy
From patient intake to readmission prevention and everything in-between, SurgicalValet™ streamlines and improves the entire surgical encounter.
SurgicalValet was designed to:
Enable the Perioperative Surgical Home

Drive patient satisfaction

Improve perioperative processes
Enable the Perioperative Surgical Home
Improve patient outcomes
Drive patient satisfaction
Increase efficiency
Streamline communication
Decrease costs
Improve perioperative processes
Powerful Partnerships and Integrations
SurgicalValet works with the EHR and patient management solutions you already use, so you get more from the data you already have.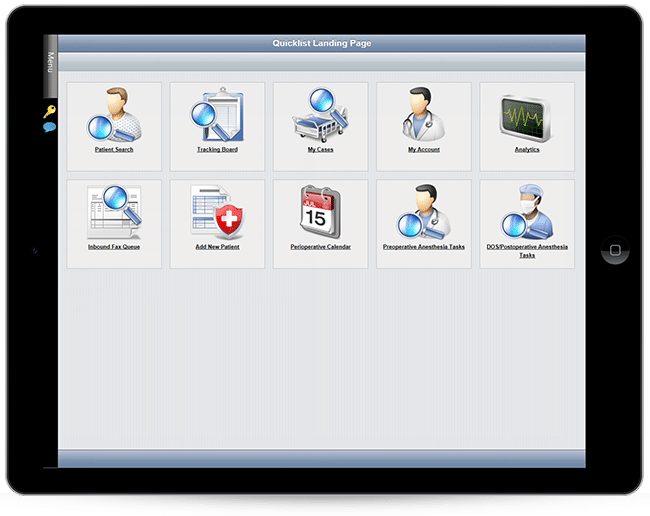 Our comprehensive solutions are available in a modular fashion, enabling additional features and the ability to choose the modules that are right for your organization.
PROVIDER OFFICE SCHEDULING
SurgicalValet simplifies the scheduling process by flagging required fields, pre-populating procedure information, and automating transfer of order request to facilities.
SURGICAL CARE COORDINATION
SurgicalValet provides a consistent and organized preoperative process, tracks patient readiness and simplifies care team communication throughout the perioperative encounter. Care team tasks align activities while clinical decision support provides individualized preoperative test and consult recommendations.
Patient Readiness Tracking
Tests and Consults
Clinical Decision Checklists
Enhanced Recovery Pathways
SurgicalValet transforms paper-based preoperative information-gathering into a streamlined, electronic process. A robust, integrated document management system organizes data from community EHRs, HISs, and faxes into a unified workflow for schedulers, physicians, RNs and administrators.
Collaborative Document Review
Mobile Health and Physical (H & P) Updates
Electronic Fax Queue
SurgicalValet leverages clinical decision checklists, alerts and tracking tools to ensure the right patients are flagged and followed. Postoperative phone calls are prioritized and tracked, while a full transitional care management module allows you to schedule and meet all requirements to document and bill for your valuable services.
Postoperative Triage
Personalized Patient Content
Transitional Care Management
Is Provation SurgicalValet Right for Your Team?
Connect with an expert to learn more about SurgicalValet, schedule a demo, or discuss pricing.