SKOUT's advanced computer vision capabilities will assist gastroenterologists with more accurate detection of adenomas in the colon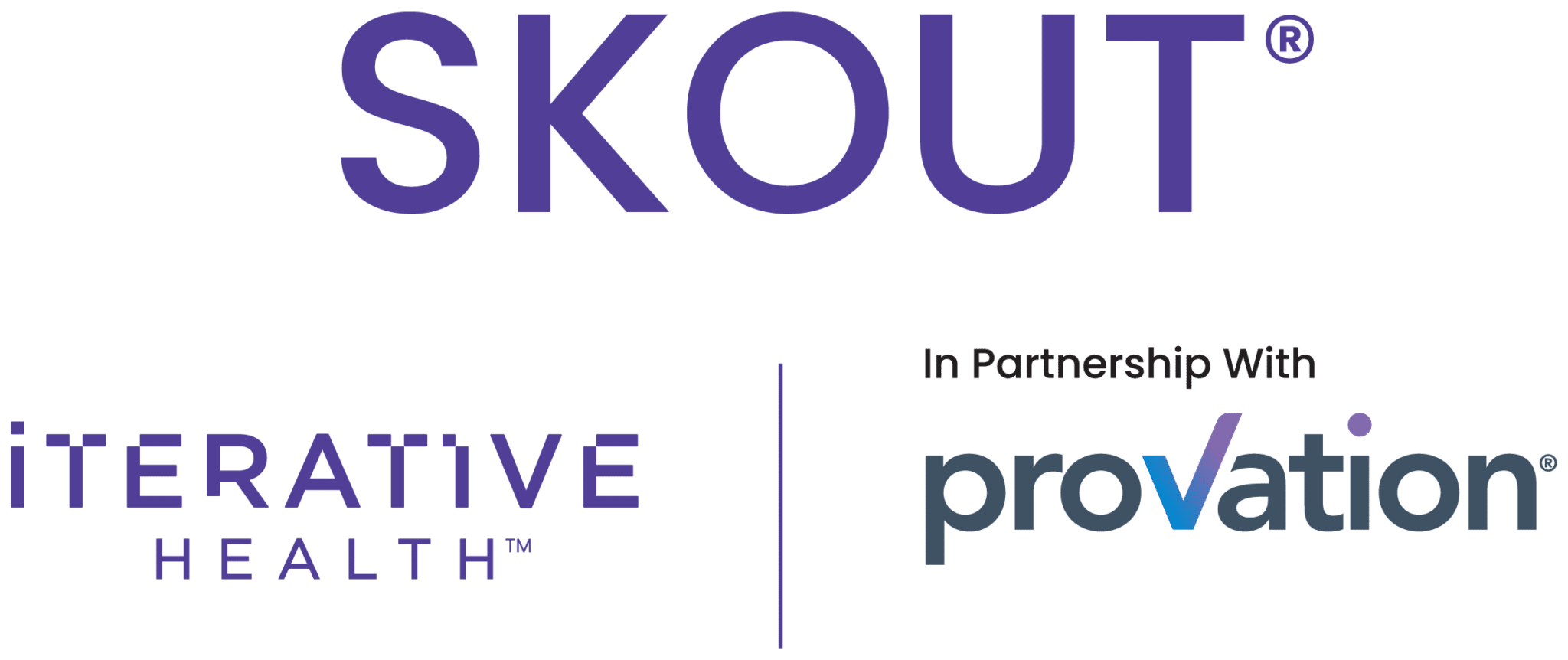 CAMBRIDGE, Mass. & MINNEAPOLIS — Iterative Health, a pioneer in precision-medicine technologies for gastroenterology, and Provation, the premier software and SaaS provider of clinical productivity and workflow automation solutions and a wholly-owned operating company of Fortive Corporation (NYSE: FTV), announced today the upcoming commercial availability of SKOUT, real-time artificial intelligence for polyp detection, in the second quarter of 2023. SKOUT is indicated as a computer-aided detection tool to assist qualified and trained endoscopists in identifying potential colorectal polyps during colonoscopy examinations in adult patients undergoing colorectal cancer screening or surveillance.
Colorectal cancer is the second leading cause of cancer-related deaths in the United States, and thorough colonoscopies are vital to preventing and diagnosing this condition.1,2 While current guidelines recommend an adenoma detection rate (ADR) of at least 25%4, detection rates among endoscopists range from 7-53%5 and polyp detection rates may decline by over 12% between morning and afternoon procedures.6 Artificial intelligence can help maintain a high-quality colonoscopy throughout the day.7
Iterative Health developed SKOUT to help gastroenterologists detect more adenomas.1 In a randomized controlled trial published in Gastroenterology, SKOUT demonstrated a 27% relative increase in the detection of adenomas per colonoscopy (APC).1 Higher APC rates have been shown to lead to improved patient outcomes; a recent study showed that the incidence of colorectal cancer within three years of examination decreases with higher APC rates.3
"We're thrilled to announce that SKOUT will soon be available to gastroenterologists throughout the U.S.," said Shrujal Baxi, MD, Chief Medical Officer at Iterative Health. "Adenoma detection can be enhanced, even among the best endoscopists, and the implementation of SKOUT provides an extra degree of surety for gastroenterologists that can have a positive impact on patient care."
SKOUT, which is the only FDA-cleared device of its kind evaluated in a US-based clinical study population,* will serve gastroenterologists across the country by:
Detecting more adenomas with real-time AI. SKOUT enhances procedure quality with increased adenoma detection, and reduces challenges in detecting certain polyp types, such as flat polyps and polyps in the proximal colon.1
Preserving existing workflows. SKOUT does not impact total procedure or withdrawal time and integrates seamlessly into existing clinical workflows.1 Designed with the gastroenterologist in mind, SKOUT features smart detection of endoscopic tools to keep the visual field clear during resection.
"SKOUT equips patients and providers with an extra degree of confidence that a high-quality colonoscopy was conducted," said Aasma Shaukat, MD, MPH, Robert M. and Mary H. Glickman Professor of Medicine and Gastroenterology at NYU Grossman School of Medicine, and a primary investigator on the SKOUT ​​​​registration study. "Computer-aided detection has the potential to raise the overall standard of gastroenterological care for patients."
"We are excited that Iterative Health and Provation will jointly bring SKOUT to market as the next advancement in the field of gastroenterology," said Ankush Kaul, President of Provation. "SKOUT will change the way care is delivered in the industry, and we are extremely enthusiastic about the results we believe it will have for patients."
For more information on SKOUT, visit: https://iterative.health/products/skout/
About Iterative Health
Iterative Health is pioneering the use of artificial intelligence-based precision medicine in gastroenterology (GI), with the aim of helping to optimize clinical trials investigating treatment of inflammatory bowel disease (IBD) and improving the accuracy of colorectal cancer screenings. We use advanced machine learning and computer vision to interpret endoscopic images along with other types of data, helping clinicians to better assess patients with potential GI problems. This gives practitioners enhanced capabilities in the detection, annotation, disease scoring and treatment of GI related diseases.
The company is based in Cambridge, Massachusetts, with offices across the United States.
About Provation
Provation is a leading provider of healthcare software and SaaS solutions for clinical productivity, care coordination, quality reporting, and billing. Our purpose is to empower providers to deliver quality healthcare for all. Provation's comprehensive portfolio spans the entire patient encounter, from pre-procedure through post-procedure, with solutions for physician and nursing documentation (Provation® MD, Provation® Apex, MD-Reports, Provation® endoPRO®, and Provation® MultiCaregiver), anesthesia documentation (#1 Best in KLAS Provation® iPro), patient engagement, surgical care coordination, quality reporting, and billing capture (Provation® SurgicalValet™), order set and care plan management (Provation® Order Set Advisor™ and Provation® Care Plans), and EHR embedded clinical documentation (Provation® Clinic Note). Provation has a loyal customer base, serving more than 5,000 hospitals, surgery centers, and medical offices, and 700 physician groups globally, including 19 of the top 20 U.S. hospitals. In 2021, Provation was acquired by Fortive Corporation, a Fortune 1000 company that builds essential technology and accelerates transformation in high-impact fields like workplace safety, engineering, and healthcare. For more information about our solutions, visit provationmedical.com and follow us on Twitter, Facebook, and LinkedIn.

1 Shaukat A, Lichtenstein D, Somers S, et al. (2022). Computer-Aided Detection Improves Adenomas per Colonoscopy for Screening and Surveillance Colonoscopy: A Randomized Trial. Gastroenterology. https://doi.org/10.1053/j.gastro.2022.05.028

2 Rebecca S, Kimberly M, Ann Godin S, Colorectal Cancer Statistics, 2020. CA Cancer J Clin 2020; 70:145-164.

3 Anderson J, Hisey W, Robinson C, et al. (2021). Mean adenomas per colonoscopy is inversely associated with post colonoscopy colorectal cancers: data from the New Hampshire Colonoscopy Registry validating this quality measure. Paper presented at: American College of Gastroenterology 2021 Annual Scientific Meeting; October 22-27, 2021; Las Vegas, Nevada.

4 Kim SY, Kim HS. Adenoma detection rate: is it the master key for the colonoscopy quality indicator? TranslGastroenterol Hepatol 2018;3:5.

5 Corley et al. Adenoma Detection Rate and Risk of Colorectal Cancer and Death. NEJM. April 2014; 370(14):1298-1306.

6
https://pubmed.ncbi.nlm.nih.gov/21448145/
7
https://jamanetwork.com/journals/jamanetworkopen/fullarticle/2800845
*Of clinical studies of computer-aided polyp detection devices published as of April 2023